The center of Pienza was completely redesigned by Enea Silvio Piccolomini, who became Pope Pius II, in Renaissance times. He planned to transform his birthplace of Corsignano into a model Renaissance town. The architect Bernardo Rossellino was commissioned to build a Duomo, papal palace and town hall, the construction were completed in three years (1459-1462).
So Pienza, a small town near Siena, is nowadays the "ideal city" of Renaissance because it represents one of the best planned Renaissance towns, a model of ideal living and governing realized working out the idea of a town able to satisfy the need for a pacific, civil and hardworking living.
| | | |
| --- | --- | --- |
| Palazzo Piccolomini | | Palazzo Piccolomini |
| | | |
| Palazzo Comunale | | The Cathedral |
The Duomo was built by the architect Rossellino (1459) with splendid classical proportions. It is flooded with ligth from the vast stained glass w26-08-2015a" (litterally "a house of glass"), which would symbolize the spirit of intellectual enlightenment of the Humanist age.
The Palazzo Piccolomini, near the Duomo, was home to Pius II's descendants until 1968. Leon Battista Alberti's Palazzo Rucellai in Florence influencedRossellino's design for the building.
At the rear of the palazzo there is an ornate arcaded courtyard and a triple-tiered loggia looking out on the garden. From here there are spectacular views across to the Valdichiana and the slopes of the Monte Amiata.
On the outskirts of Pienza there's the Romanesque Pieve di Corsignano (11th. Century) were Pope Pius II was baptized. It has an unusual round tower and a doorway decorated with flower mytholgical motifs. A crib is sculptured on the architrave of the side doorway.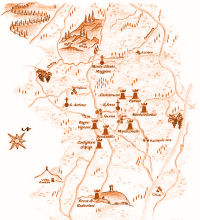 Val d'Orcia