The hill of Panicale, that had once belonged to Etruscan Chiusi, to the Romans and to the Longobards,was particularly important to Perugia in the 13th and 14thcenturies, for its strategic position controlling the valleys of the Nestore River and Lake Trasimeno.
The town overlooks the lake from a natural balcony. It developed in a circular pattern around three piazzas, unusually set in a straight line going up the hill.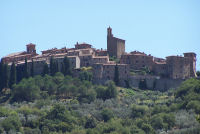 Panicale
The lowest is the ancient Piazza del Comune (Piazza Umberto 1), with the Palazzo Pretorio opposite the handsome travertine fountain (1473). Next is the Piazza of the Collegiate Church of San Michael the Archangel. Founded by the Longobards, the church was enlarged in the 17th and 18th centuries and sumptuously decorated in the Baroque style. Noteworthy is the panel painting of the "Adoration og the Shepherds" by Giovan Battista Caporali (1519). At the top of the hill is the piazza with the Gothic Palazzo del Podestà. Outside the Porta Fiorentina are the 13th‑century Church of Sant'Agostino and the elegant Church of the Madonna della Sbarra, in the style of the 16th and 17th centuries.
In 1505, in the Church of Saint Sebastian, Pietro Perugino peinted "The Martyrdom of Saint Sebastian".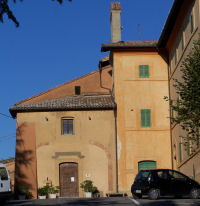 Church of Saint Sebastian
This "Martyrdom" is in fact conceived as an abstraction, a play of geometric figures: pyramid, rectangle, circle. The central pyramid is formed by four archers, elegant in their classical, sculptural poses, who dance around the Saint, oblivious to the arrows.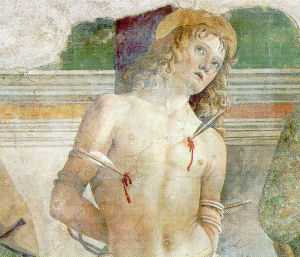 The Martyrdom of Saint Sebastian
Behind them, through a series of classical arches, is layed out the splendid landscape that is seen outside the church, towards Lake Trasimeno and the Valdichiana.

Perugino's landscape

The Cesare Caporali Theater. Built in the 18th century and called "Theater of the Sun", it was transformed in 1858 by the architect Giovanni Caproni. The wooden interior is fully decorated with stucco and painted medallions. The central canvas, entitled "Bordrino of Panicale enters Perugia", was painted in 1869 by Mariano Piervittori.
Not far from Tavernelle, in the Panicale area, is the Renaissance church Santuario di Mongiovino. The central plan with dome was designed by Rocco da Vicenza in the early 16th century. Inside are frescoes by Niccolò Circignani called "Pomarancio"and Arrigo Fiammingo. The ancient hamlet of Mongiovino Vecchio sits on a pleasant hill behind the Santuario.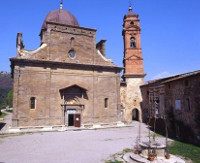 Santuario di Mongiovino